Do you know anyone who suffers from Crohn's disease? There's a very good chance that you might.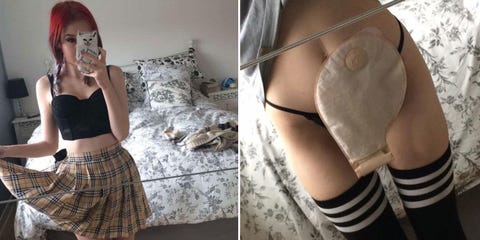 ---
According to the Crohn's and Colitis Foundation of America (CCFA), over 700,000 Americans may presently be suffering from this awful gastrointestinal disease. There are many people, however, that may not even know that they have it. The symptoms of Crohn's can include constipation, abdominal pain and cramps, continuous and urgent need to go to the bathroom, rectal bleeding and persistent Diarrhea. The causes of Crohn's disease are not fully known nor understood, though some believe that the disease may come about from stress management and poor dietary practices. Many people who suffer from Crohn's do so in silence.
---
One such sufferer is Aimee Rouski. This teenage girl recently took Facebook by storm when she outed herself as a Crohn's sufferer with a public, vulnerable, and honest post about her disease. In the post, Amy wrote:
I've wanted to do this for a while because I always see body posi posts for weight, but not many for disabilities / invisible illnesses. First off I have Crohn's disease, it's a serious incurable illness that nearly killed me, not just a stomach ache like most people seem to think. A person with crohns will go through many different treatments including surgery, and it's the surgery I want to touch on now.

My Crohns has left me with a permanent ileostomy, no large intestine, colon, rectum, anus, or inner thigh muscles as they were used for plastic surgery on my wounds. I've always been okay with the stuff that has happened to me, but some people have real difficulties accepting these things so I just want to say this. No one will know unless you tell them. People who know will still love you and still find you beautiful. Your illness is nothing to be ashamed or embarrassed about <3
---
The post and photos have gone viral on social media and are already inspiring others to come out about their "silent" diseases. Rouski has also been written up in numerous blogs and sites. The original post has garnered over 11,000 likes, 1,600 comments, and 5,100 shares. It is a powerful and inspiring message that's taking wing.