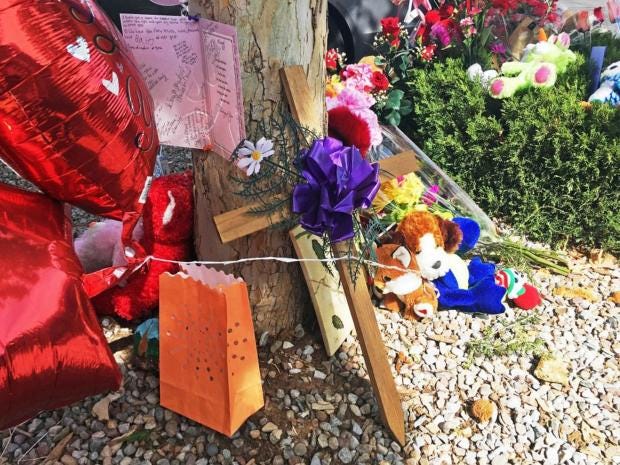 A US mother has been arrested after her 10-year-old daughter was allegedly drugged, raped and murdered by her boyfriend and his cousin.
Michelle Martens, her boyfriend Fabian Gonzales and his cousin Jessica Kelley have been arrested over the death of Victoria Martens, whose body was found wrapped in a burning blanket in a bathtub at her home in Albuquerque, New Mexico.
Local police said they found the girl's dismembered cadaver when they answered a disturbance call relating to the Martens' residence on Wednesday.
They later concluded that Victoria had been injected with methamphetamines before being raped, strangled and stabbed.
Michelle Martens reportedly told the arresting officers that Gonzales had injected Victoria with meth to calm her before raping her while Kelley held her hand over the girl's mouth, later stabbing her in the stomach as Gonzales choked the child.
The trio are then alleged to have conspired to dispose of the body and have been charged with child abuse resulting in death, kidnap and tampering with evidence while Gonzales and Kelley face an additional charge of criminal sexual penetration of a minor.
Albuquerque police chief, Gorden Eden Jr, described the murder as "the most gruesome act of evil I have ever seen in my career".
He said it showed a "complete disregard for human life".
Tributes have poured in for the little girl, who was described as well-liked and friendly and who had been expecting to celebrate her birthday with a party that afternoon.
A makeshift shrine with flowers, balloons and stuffed animals was set up in Victoria's honour next to a tree outside her apartment complex.
One resident, Johnny Madrid, said he often saw the girl at the local swimming pool with his daughter and said she had been excited about the start of the forthcoming school year.
Christine Zamora, who taught the girl gymnastics every Saturday, said she was shocked by her death and that she had always come to class happy.
She said:"She was incredibly social. It's just so tragic."
Bail has been set at $1m (£757,000) each for Martens and Gonzales, who did not speak during the hearing on Thursday.
Their public defenders declined to comment on the allegations but local news channel KOAT showed footage of Gonzales denying hurting Victoria when quizzed by reporters as he was escorted to prison.
New Mexico Governor Susana Martinez says what happened to the little girl "is unspeakable and justice should come down like a hammer" on whoever is responsible.